In 2003 students in the University of Texas School of Architecture's Historic Preservation program spent four months gathering and compiling information on the Browning Ranch. Their work resulted in a Cultural Landscape Report. Much of the work was conducted with the use of a global positioning system (GPS) in order to accurately map various cultural features. In addition, the class produced detailed measurements of historic structures, resulting in approximately fifteen measured drawings of various ranch structures.
See also the Naumann House at Browning Ranch: Historic Structure Report and Proposal for Rehabilitation completed in 2004.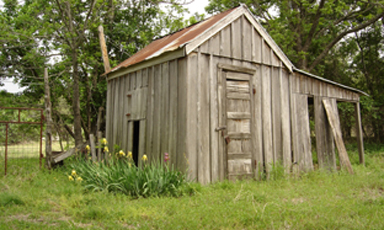 Smokehouses like this one reveal the subsistent cultural history of the ranch.