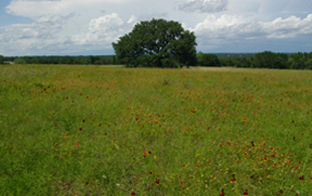 Live oak tree (
Quercus virginiana
) surrounded by Indian blankets (
Gaillardia pulchella
).
The East and West Meadows have seen continuous brush control for several decades. The resulting landscape pattern is an open grassy expanse with large live oak trees in clusters, often called a savannah. It is here that we see the most abundant and diverse assortment of wildflowers and grasses. The patchwork of grassland, shrubs, and mature trees routinely attracts a pair of American kestrels that inhabit the ranch every winter.
On the southern edge of the West Meadow sits the ranch house that Mr. Browning constructed in 1942. Ideally situated under the canopy of mature live oaks, this home site has a sweeping view of the meadow and Pedernales River.
Click to view:
Elevation Model of East Meadow.
Elevation Model of West Meadow.
Satellite Image of East Meadow.
Satellite Image of West Meadow.