The springs and seeps in Rock Canyon stay active longer than any of the other watersheds. This produces a significant resource for wildlife during times of drought when few other sources of water can be found. Since the canyon is oriented west to east, this watershed creates an ideal shelter belt for wildlife, offering protection from the winter winds.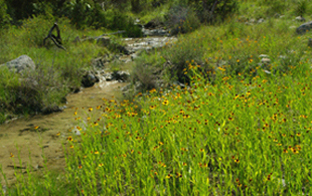 Rock Canyon creek.
The steep slopes that dominate Rock Canyon have enabled large boulders and stones to slide off the uplands, covering the valley floor. These slopes make this watershed unfavorable for cattle grazing, and therefore this catchment has experienced very little Ashe juniper clearing. Due to the reduced disturbance from cattle, Rock Canyon has some of the higher levels of plant diversity found on the Ranch.
Two drop-offs of ten feet or more and blanketed with maiden hair ferns (Adiantum capillu-veneris) can be found along the stream course.
Click to view:
Elevation Model of Rock Canyon.
Satellite Image of Rock Canyon.